In order to detect your FAIRTIQ trip correctly, we need you to set the location permission for the FAIRTIQ app to "Always Allow". However, this doesn't mean that we will always use it! We only access your location while you are travelling with FAIRTIQ or when the app is visible on the screen (to identify your departing location).
Detecting your trip correctly is at the heart of our technology and we are fully transparent about why "Always Allow" is needed for that. Read on if you want to know more.
Why can't I use the "Allow While Using App" setting?
Unfortunately, the "Allow While Using App" setting is not sufficient to use FAIRTIQ properly. With this setting, we would no longer receive your location data if your FAIRTIQ app was terminated. Your FAIRTIQ app could have been terminated due to several different reasons – because of a system error, your phone ran out of battery, you swiped it away, a new version was installed during your trip, and so on. You get the idea.
The "Always Allow" permission is the only way for us to restart your app and continue receiving your location data in these cases. This ensures that your trip is correctly computed and that you receive check-out warnings, as well as Smart Stops.
And that's the reason, why "Always Allow" is needed.
How do I give my location permission on iOS?
Honestly, this can be a bit confusing because there are two steps to give the permission "Always Allow".
Here's everything explained:
1) First, when you install or reinstall the FAIRTIQ app, you will be presented with a screen asking for your location permission, giving you three options:
"Allow Once" – gives one-time access to your location. If the app wants to access your location again, it has to ask again.
"Allow While Using App" – gives the app permission to access your location, but only when the app is open.
"Don't Allow" – means the app will continue to not have access to your location.
This is what it looks like on different iOS versions:
| | |
| --- | --- |
| iOS 13 | iOS 14 |
| | |
Attention: Unfortunately, at this point, iOS does not give the option "Always Allow", which we need to make sure your journey is detected correctly. Because of this, we ask you to select "Allow While Using App" at this point.

2) Secondly, at a later point, iOS will prompt you again to switch from "Allow While Using the App" to "Always Allow". This prompt will look like this: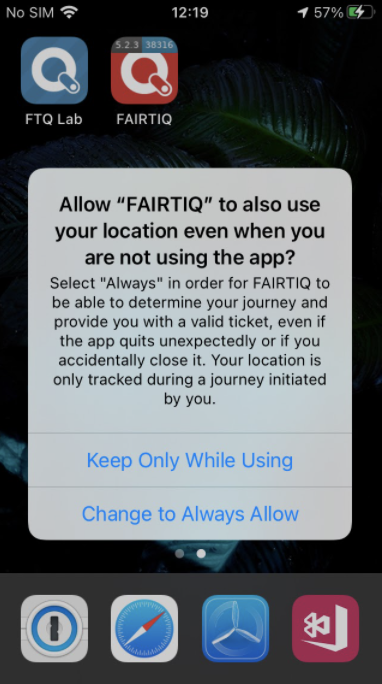 This prompt usually appears after a few days. It's important to note that our app does not control when this prompt is shown. This is controlled by your device's operating system.
Once this prompt is shown, we require you to select the "Always Allow" setting for the reasons we explained above.
How can I see when my location is being used by FAIRTIQ?
If you're curious when exactly FAIRTIQ uses your location, you can navigate to Settings > Privacy > Location Services on your iPhone's Settings app.
Next to FAIRTIQ, you will see....
- a purple arrow if we used your location in the last minute:

- a grey arrow if we used it in the last 24 hours:

As we don't receive your location if the app is in the background and you're not travelling, the grey arrow will disappear 24 hours after your position was last used by the app.
Does this mean FAIRTIQ knows where I go for 24 hours?
Nope. If we did that, the grey arrow would not disappear. It's 24 hours counting from the last time we received a position.
To sum it up...
We hope this clarification helps you understand why we require "Always Allow". We are deeply concerned with the privacy of our users and strive to deliver the best possible experience while keeping FAIRTIQ fair, fun and as easy as possible for you.
P.S. If you're still on iOS 12...
If you're still using iOS 12, the initial prompt already gives the option "Always Allow" so we don't have to prompt you a second time. 😉