It is possible to fully integrate your SwissPass in the FAIRTIQ app, so that all of your passes that are accepted* by FAIRTIQ, as well as your half-fare card, will be automatically linked to your FAIRTIQ account and kept up-to-date.
How to add my SwissPass to FAIRTIQ?
To fully integrate your SwissPass...
Open your FAIRTIQ app

Go to

Menu > Settings > Travel

Add passes/cards

Choose Switzerland & Liechtenstein

Click on

SwissPass

Enter your

CKM number

(the long number at the bottom of your SwissPass, highlighted in the picture below)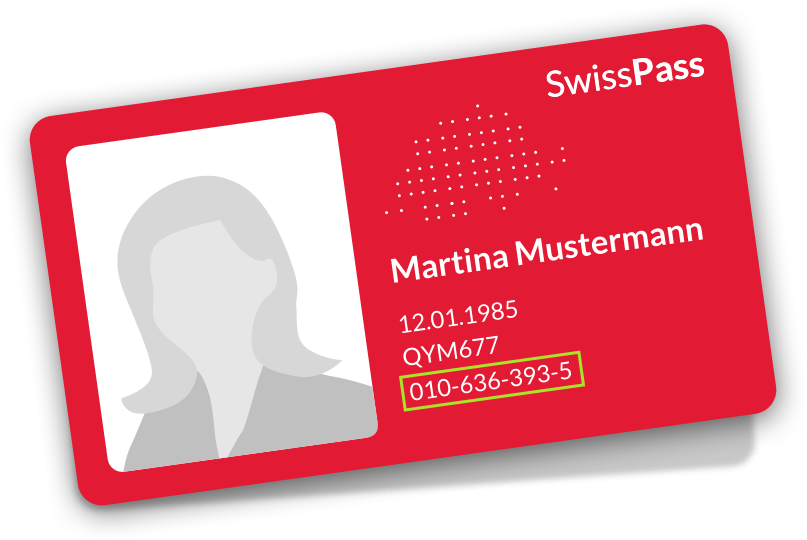 That's it! As long as your passes and your half-fare card are on your SwissPass, you do not need to register them manually in the FAIRTIQ app anymore. All your passes and cards linked to your SwissPass and accepted by FAIRTIQ will be automatically kept up-to-date in your FAIRTIQ app.
What if I had already entered my subscription passes manually?
If you already manually entered a subscription pass, you will continue to see the manually entered pass, as well as all passes that are linked to your SwissPass.
That means that if your manually entered pass is also available on your SwissPass, it will be shown twice in the app. We suggest to delete the manually entered pass, as the one linked to the SwissPass will be kept up-to-date with any changes made on your SwissPass.
To see and/or delete your subscription passes…
Open your FAIRTIQ app

Go to

Menu > Settings > Travel

Click on the (manually entered) subscription pass

On the bottom, you will see the option to delete the pass
*One final note
Only the cards / passes will be automatically shown that are accepted by FAIRTIQ. For instance: Bike-passes, GAs or the GA night cannot yet be integrated in the FAIRTIQ app, hence why this subscription has to be shown separately when being inspected.
9 O'Clock Passes (Passepartout, A-Welle and ZVV) are not yet supported by FAIRTIQ. In case you decide to add your pass manually, be reminded to only check in on FAIRTIQ after 9 am.